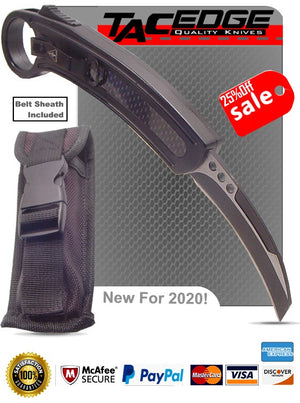 LumaForce.com
2020 Tac-Edge Dual-Action OTF AUTOMATIC Karambit Pocket knife
Sale price Price $ 67.50 Regular price $ 89.99
New for 2020 this exclusive Tac-Edge OTF Karambit is a fully automatic double action OTF (out the front) Karambit knife that comes standard with zinc alloy handles with carbon fiber inlay . The construction of the knife makes for a precision fit and finish not only on the exterior of the knife but also on the inside operating components as well. The zinc alloy is strong, lightweight and luxurious in appearance and feel. The OTF Karambit is ergonomically designed to be comfortable in both reverse and forward grip applications becoming an extension of the operator.
 The knives purpose built chassis has curves in all the right places. The butt end of the knife is home to the infamous retention ring which allows for not only weapon retention under duress but also for advanced flailing & spinning techniques. When the Karambit is closed and the blade has not been deployed it can be used as a less-lethal or pain compliance tool.
SPECIFICATIONS
Overall Length: 8.50"
Blade Length: 3.00"
Blade Thickness: 0.11"
Overall Weight: 7 oz
Handle Material: Zinc Alloy
Blade Material: 440c Stainless steel
Blade Style: Karambit
Finish: Satin
Edge Type: Flat
Handle Length: 6.00"
Equipped with Steel belt clip
What is a Karambit?
The karambit is a multi-use knife designed for user safety, precision, and efficiency. Karambits have a curved or hooked blade, an ergonomic handle, and typically least one safety or retention ring. With a design that's thousands of years old and tons of old world charm, most karambits are quick to draw the eye. They're sleek, built for a purpose, and time tested. When it comes to every day carry (EDC), knife combatives, and self defense, few blades have the karambit's long standing history of success.
Karambit History
The precursor to the modern karambit first surfaced in Indonesia during the 11th century as a farming tool and utility blade. Due to Indonesia's thriving trade industry, the karambit quickly spread throughout Southeast Asia. Eventually, the blade developed strong roots in Malaysia and the Philippines, where it was used as a defensive and backup weapon and for every day chores. Over thousands of years, the karambit became entrenched in the warrior culture. It's now an iconic weapon associated around the world with the Southeast Asian martial arts of silat, eskrima, and kuntao. Karambits have been around for nearly 10,000 years.
Karambit Design
While a traditional karambit's exact design may vary slightly depending on its exact geographic origin, a karambit will always have a curved blade reminiscent of a tiger's claw or a talon. The blade should be optimized for tearing, ripping and slicing. The handle should be designed for stability and a secure grip, even in sub-optimal conditions.